BC Timber Sale Tracking System Highlights 21
New Account Signup

A Competitive Edge Bidding and Tracking Tool
Spatial positioning of sales with easy reference data windows
Daily Updates of New Sales and Bid Results
Bid Research Tool for areas historical production & pricing
List of Bidders on each Sale with Bid Amounts
Bidders History and position and amount on each sale
Archived Timber Sale Prices, Cruise and Maps
Database of Timber Sales dating back to year 2000
Extensive Sale Search and Sorting Capabilities
Timber Sale and Bidder Search Tools
Monthly Weight Scaling/ Off Grades/ Ratios/ Stratum Owners
Scale return summaries of volumes from each sale
Long. Lat. positions, access maps, terrain maps, legal maps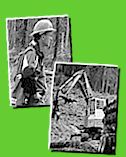 Used by BC's most Successful Log Buyers and Contractors.
_______________
Replaces in-house tracking system with a robust database.
_______________
Contractors & Buyers compare notes, follow prices and trends with WoodX.
_______________
"A must have tool for competitive bidding and sale tracking"
---
Data Access January 15, 2021 / Complied and Rendered by WoodX Databases Ltd. Copyright © 2000-2021